P̴͂̿̍̏̌̍ͯ̃҉̯͈͖͕̬̩̲̙̹̞͔͎̦̜̗̣̥͇̕L̵̂̂̾̀̏̅͒ͫ̔҉̲̲̹̫̮Eͤ̍ͪͥ͐͆̂͒̏̉͛ͪͯ͆͊͆ͩ͂̚͏̶̶̧̹̜͙̙̦̣̯͝A̷͕͖͇̤̝͇̫̳̻͈̠͖̾͛̇̊͋̑ͧ̇͛̒̇̀̂̀͠͠S͐͆ͮ̌́̎ͦͮͯ͟҉̷̜͉͔̪̫̠͍͔̫͚̠̮̯̜̺̜E̯̖̦̭ͤ͆̌ͨ̽̔̑̉ͨ͗̑̀̍͛̑̈́ͦ̑̀͟ ̴̢̨̳͚̙̰͙͓͕͈̮͕̻̥̹̞͓̻̯̠̂̂ͮ̇̑̌̉̀̆ͬ̒Ḧ̶̨̟̰͇̤̣͎̙̫͔̪̫̳̤̥̣͇͈̾͋͊̄͛͂̀̌͐̇ͯͤ̀͟͝ͅȨ̷̛͈̭̺͇̦̹̜͎͍̗͎̪̝̞̃͆́ͫ̊ͦ̇͋̊ͫ̇͆̏ͭͭͥͪͧ͠͝ͅL̛̹̫̰̙̩̦̙̙̙͓͖̪͇̳̲̇̇̀͌͑̀͆ͪ̇̔̎ͪ͗̚͟P̨̧̡̝̦͔̪̮̞̝̮̮̗̼̣̤̗͈͕͖͆ͩ̊̀͊̓͘͝








@ The Cabinet Gallery, outside the Karel Doormanhof building. Run by Matheline Marmy.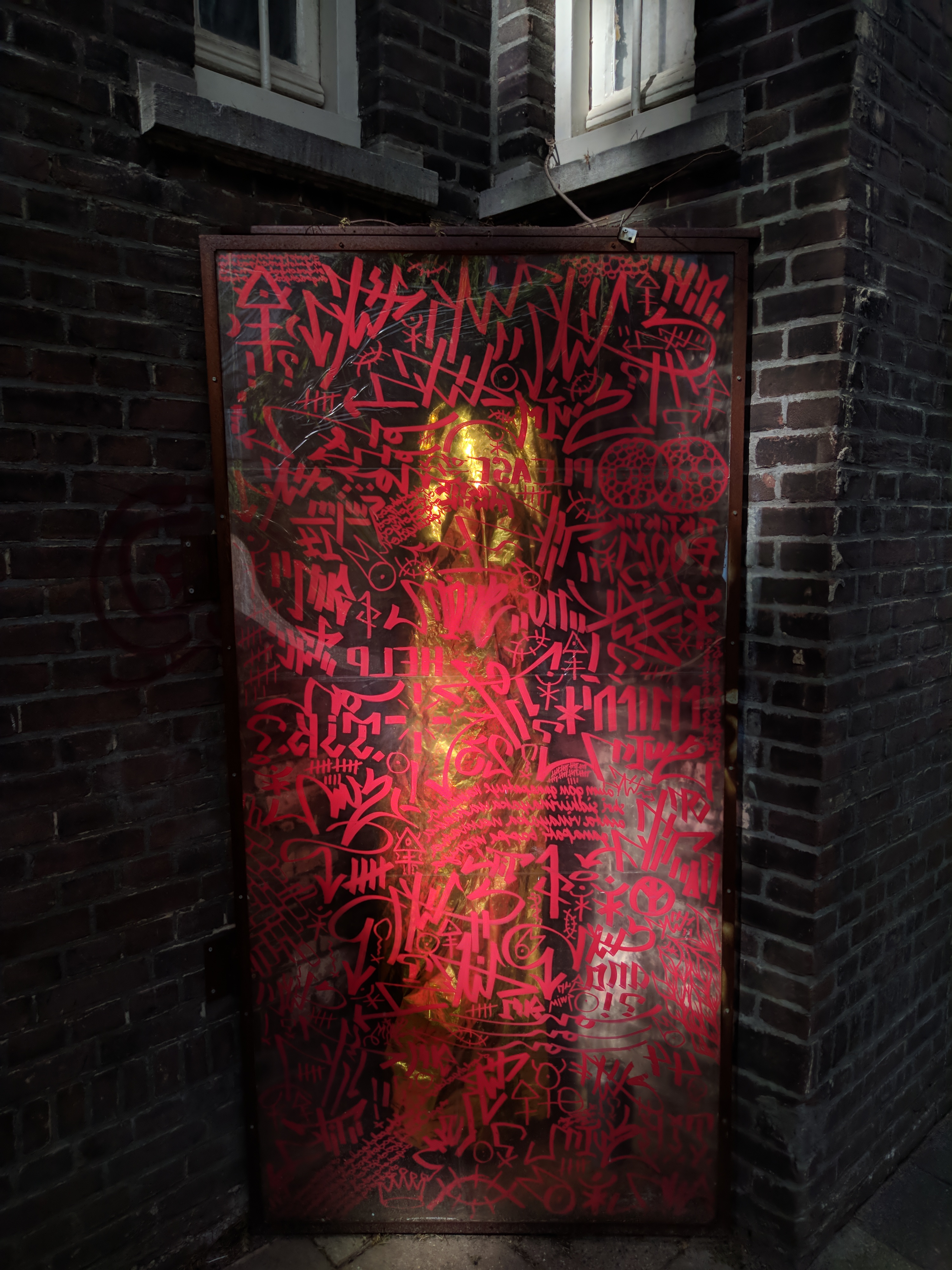 Acrylic glass with a range of red scribbles, primarily graffiti, some elements from more esoteric genres, like alchemy, runes, and sanskrit chants, as well as my notebook scribbles and tally marks. Hanging inside the cabinet, weighted on elastic bands, is a golden cloth shape made from a survival blanket, and in the bottom right corner a (hard to spot) thermos flask. All writing is mirrored when viewed from the outside, by virtue of it being written on the inside of the glass.

An attempt to make a specific chosen set of narrative elements available, for the passerby to assemble into a speculative readable story through their own sensibilities.

The narrative I personally used to inspire the assembly of these elements (not a solution or true answer, just the one that set it in motion), is of a person being imprisoned inside the display case, also in some sense in an alternate dimension, an upside-down world, where the rules of time and space and meaning don't necessarily apply exactly the same. What we're seeing, then, in the context of that story, is primarily a result of that person surviving, struggling to maintain their sanity, trying to make sense of their predicament, and attempting to contact the outer world with the tools available to them.

∴