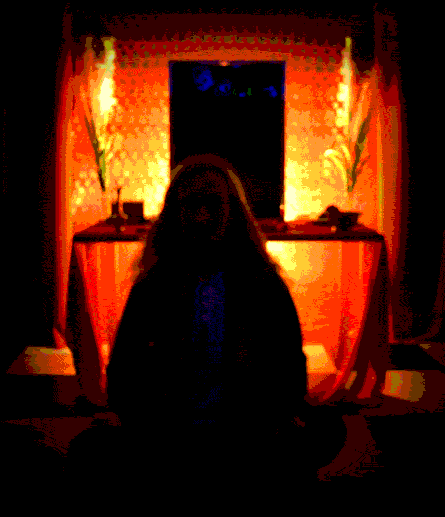 Artist &
vitki
from Norway.
Most of my work and study operates in an interplay of art, technology and occultism, usually expressed publicly in the form of performance, installation, social practice and digital/new media productions. I'm engaged in the ways we map and model our experience and understanding, mythologise, and influence each other (from the field of marketing to esoteric ritual initiations), as well as the potential for interacting with randomised reshufflings of our meaning-sets to open up new horizons (as in cut-up technique, dérive, machine-learning experiments, and divination).
MFA at Piet Zwart Institute in Rotterdam. BFA at the Oslo National Academy of Fine Arts. Awarded a residency at FKDS Ateliers at Kunstnernes Hus, Oslo, Norway, and the
From Dusk till Dawn
PNEK Art Prize︎ in 2017. Recent performances in Amsterdam, Rotterdam, The Hague, Featherstone Castle in Northumberland, and exhibitions in Rotterdam and Oslo.
Exhibitions:

The Second Night of Experimental Boredom
Performance evening, Dordrecht, 2020
Droef

Poetry festival, Gent, Belgia, 2019
Occulture Berlin

group show, performance and visual art exhibition, Berlin, 2019
Dit is uit de Kunst #27
Lil' Delfshaven, Exhibition, Rotterdam, 2019
Castle Perilous
Discordian Festival, Performance, Featherstone Castle, Northumberland, 2019
Performance Bar(n), Performance evening, Rotterdam, 2019
Specter @ V2
V2, Symposium, Rotterdam, 2019
P̸͝l̴̶͟͠ę̡̛͝á̢͘̕s̸͏̡͢͞e̷̸̢ ̴͡Ḩ̵̵͘͠e̵̛͜͞͞l̀̕p̷̵͟͝-
The Cabinet, Installation, Rotterdam, 2019
Ba-Dum-Psssh
Locatie Z, Group exhibition, The Hague, 2019
Lolly Panic
The Performance Bar, Performance evening, Rotterdam, 2019

Heterotopia
ETTO, Group exhibition, Rotterdam, 2019

Bobby's Scratch Night
De Riddert, Performance evening, Rotterdam, 2019

Vinter Festival
Torpedo Theater, Performance evening, Amsterdam, 2019
PLUSS PLUSS: Crime and Punishment
Black Box Theater, Performative installation, group show curated by Karen Nikgol, Oslo, 2018
Oslo Open Kunstfestival
FKDS Studios, Oslo, 2018

Vår, vår
Galleri Autonom, installation, group show, Oslo, 2018
Solve cut performative on technique up & A lecture Coagula
Winter Solstice Festival, Vandaler Forening, Performative lecture, Oslo, 2017
Mammalian Dive Reflex
3rd Oslo BYOB (Bring Your Own Beamer)
Field of Dreams︎
, Lyssky, Group show, Oslo, 2017
AVGANG 2017︎
KHiO, final Bachelor group exhibition, Oslo, 2017
Nomadic Impressions
Akademirommet, Kunstnernes Hus, group show, Oslo, 2017
His Great Breakthrough
Akademirommet︎
, Solo Exhibition, Kunstnernes Hus, Oslo, 2016
Et Lag Uten Sport
Seilduksgalleriet, group show, Oslo, 2016
METAZONE︎
Akademirommet, Kunstnernes Hus, group performance, Oslo, 2016
Open Call
Seilduksgalleriet, group show, Oslo, 2016
7 DAYS
Portnergalleriet, Oslo 2016
A Collective Endeavour︎
Akademirommet, Kunstnernes Hus, group show, Oslo, 2016
Five Miles West of Marfa
180 Gallery, group show, Oslo, 2015
Mapping and Modelling in Mysticism
Kunstakademiet Seminarrom 4, KHiO, performative lecture, Oslo, 2015
XTAL
Kunstnernes Hus, group screening, Oslo, 2014
Kunst I Informasjon
Galleri Podium, group show, Oslo, 2013
TICK
Galleri Brenneriet, with
Katarina Lundberg︎
, Oslo, 2013
Strykejernets jul- & sommerutstillinger︎
Strykejernet, group exhibitions, Oslo, 2012-2014
Arte a Corte
Olevano Romano, group exhibit, Italy, 2010
Awards & Stipends:

Fondet for Kunst- og Designstudenter︎
Atelier program at Kunstnernes Hus, Oslo, 2017-2018
From Dusk till Dawn PNEK Art Prize︎
WAAAHAWAD concert, 2017
Text:

FR3VR
, 2020
Fiction, written by Andy Gell, illustrated by Peter Horneland, (Page 130 Publications)
Unimission Transversal
, 2015, This Is All True
fanzine, Editor Mike Sperlinger (Oslo: KHiO)
Nothing Answered
, 2014, I Tell Only Lies
fanzine, Editor Mike Sperlinger (Oslo: KHiO)
Education:

Oslo National Academy of the Arts, BFA︎
2014-2017
Strykejernet Kunstskole︎
2012-2014
Other:
Curator
for
Mythos
by Oddvin Horneland
Akademirommet, Oslo 2018
Concert Visuals
for
WAAAHAWAD︎
(F. Falk & N. F. Eriksen)
All Ears Impro Festival, Gamle Museet, Oslo, Norway, 2016
Winter Solstice Festival, Oslo, Norway, 2016
From Dusk til Dawn Art Prize, Kunstnernes Hus, Oslo, Norway, 2017
Nonfigurativ Musikk, Galleri Galleberg, Tønsberg, Norway, 2017
Stage Banners
for
Mayhem︎
, 2016
All concerts on the "De Mysteriis Dom Sathanas" tour
Exhibition assistant
for
Radici Rhizomatiche
by Oddvin Horneland
Curator Bjarke Regn Svendsen, Villa de Pisa, Olevano, Italia
Works held in private collections in Norway, US, Italy, UK, and Netherlands
∴